Curriculum
At Coulsdon C of E Primary School we offer a broad, balanced, creative and challenging curriculum so that the needs of all children can be met.  Coulsdon C of E Primary School is an inclusive school; the staff work hard to ensure that the curriculum and learning environment are adapted to support children's learning differences and cultural diversity.  We want our children to leave us at the age of eleven confident and positive about moving onto the next stage of their education.
Curriculum Statement 2022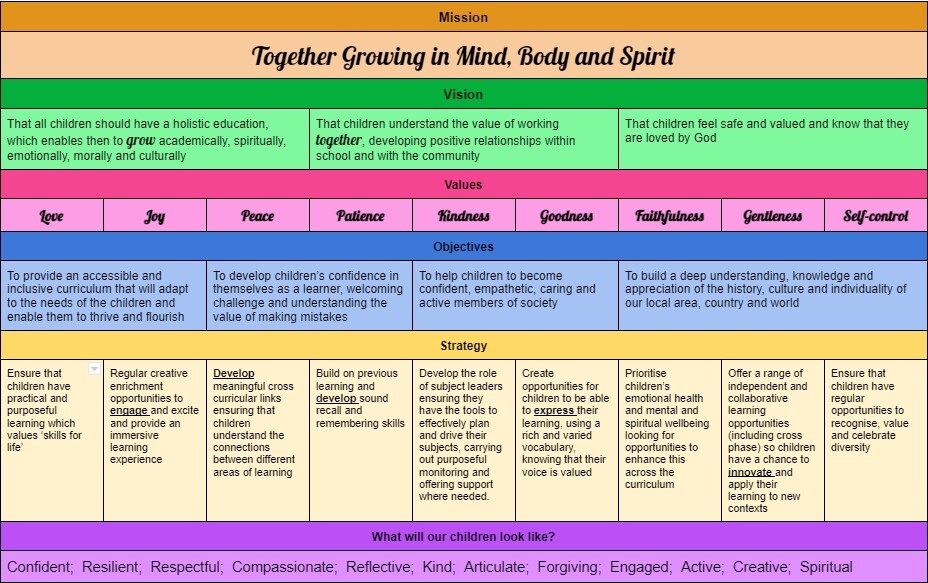 Implementation of our Curriculum
We follow the Diocese of Southwark Religious Education Syllabus which enables the children to experience learning about Christianity and all the major world faiths.  Within RE lessons, children have the opportunity to develop a wide range of skills which help to develop religious understanding and to ask and answer thought provoking questions about their own and other's beliefs. 
Our early years setting follows the latest version of the EYFS statutory framework that applies from September 2021. Development Matters, DfE 2021, is also used as guidance for progression of skills, alongside our own development of skills documents.
Staff plan activities and experiences for children that enable children to develop and learn effectively. In order to do this, staff are expected to focus strongly on the 3 prime areas. However, staff also take into account the individual needs, interests, and stages of development of each child in their care, and use this information to plan a challenging and enjoyable experience. 
Where a child may have a special educational need or disability, staff consider whether specialist support is required, linking with relevant services from other agencies, where appropriate. When they are planning and guiding children's activities, staff reflect on the different ways that children learn and include these in their practice. 
Staff make good use of the outdoors for learning, and opportunities for first hand experiences. Topics have been developed over time to ensure an exciting and balanced curriculum, linking to seasonal opportunities or celebrations, but also allowing flexibility to follow the children's interests. 
We follow the Read Write Inc structured phonics programme, and the NCETM Mastering Number maths scheme, so phonics and maths are taught every day with clear progression towards the ELG and skills needed ready for joining Year 1. There is also consideration for what is taught in NC areas of learning throughout the rest of their learning experience while at Coulsdon C of E Primary.
Curriculum Maestro is used throughout Key Stage 1 and 2 at Coulsdon because:
It offers a clear progression of skills and knowledge with comprehensive coverage of all History, Science, Geography, Art and DT objectives.  
Explicit subject knowledge and vocabulary is taught and revisited.  
Although each theme has one main subject, 'companion' projects can be taught which allows all subjects to be taught in parallel and continuously.
Curriculum Maestro includes an assessment tool which means teachers can use their formative assessment and observations to quickly assess the learning.  This allows them to track progress over time, keep track of gaps and determine what subject knowledge might need additional revisiting.
There are notable benefits for developing writing skills; there are clear links between topics and writing objectives and each theme suggests texts to support subject knowledge but also to use as a stimulus for writing.
Curriculum Maestro has a clear structure which runs through all themes but also offers scope for tailoring planning to match school development priorities.  With writing being a high priority at Coulsdon, we are able to integrate our two week cycle Writing planning within the Curriculum Maestro framework. 
Curriculum Maestro has four cornerstones at its foundation:
ENGAGE

DEVELOP

INNOVATE

EXPRESS

Inspiring and immersing




Includes practical and purposeful learning




It includes trips/theme days and creative activities

Revisiting and recall




Introducing new knowledge and skills




Develop cross curricular links

Applying learning in a range of contexts




Suggesting new directions of learning




Work cross phase

Performing 




Assessing 




Demonstrating the learning has taken place




Express using a rich and varied vocabulary
We use Kapow Primary to help with our teaching of Computing and Music.  It provides engaging and progressive schemes of work and lesson plans which are linked to the National Curriculum.  It includes teacher CPD videos and supporting materials that help teachers to develop skills and knowledge across EYFS, KS1 and KS2.  We believe that the CPD materials empower our teachers to deliver these subjects by ensuring their subject knowledge is secure and that the language and strategies they use are consistent and appropriate. 
We use White Rose Maths (WRM) to lead our planning for our maths curriculum.  It links to the aims and objectives of the National Curriculum, has number at its heart and provides plenty of opportunities to build reasoning and problem solving elements into the curriculum.  The WRM schemes of learning clearly outline the progression of skills into yearly frameworks that break down what children need to learn during each week of each term into small steps of learning. WRM helps children develop their conceptual understanding of mathematics by using concrete objects, pictorial representations and abstract thinking. The philosophy behind White Rose Maths focuses on making maths fun for children and helping them to find enjoyment in number problems fits with the Coulsdon way of learning.
Investigative Maths is integrated within WR teaching but there is also one explicit investigation lesson taught at least once a fortnight.  The lessons focus on the development of these learning skills:
Resilience and Perseverance
Learning by making mistakes
Collaborating
Questioning
Making links
Noticing 
Whole School Approach to Learning Times Tables
We adopted a Whole School approach to Learning Times Tables, after working with  Professor Jenny Field from the School of Education at the University of Greenwich. The order in which times tables are taught is set for each year group.   A whole half term is devoted to a new times table and within that half term, three whole lessons are devoted to exploring the patterns and connections within the new times table.  In addition, three or more times a week in every class there's a five- to ten-minute 'retrieval practice' session, including one or more of the following: games, counting-stick work, step counting using manipulatives, chanting and technology-based, quick-reaction exercises.
Mastering Number
Reception Class, Year 1 and Year 2 participate in a nationwide programme called Mastering Number.  It is a new programme by the National Centre for Excellence in the Teaching of Mathematics (NCETM) and the Maths Hubs Network and aims to develop solid number sense, including fluency and flexibility with number facts. The Mastering Number Programme forms the basis of the Maths curriculum in Reception Class and  in Years 1 and 2, teachers deliver a daily session of 10 to 15 minutes in addition to their daily maths lesson (4 days out of 5).
We use the 'Read, Write Inc' scheme which is a synthetic phonics programme to promote early literacy skills. The structured programme is designed to ensure all children learn to read accurately and fluently through daily fun with engaging rhymes, characters and props.  The children are taught within group sets, tailored to their phonic ability to ensure they are learning and recapping the sounds they need to know and make individual progress more quickly.  As the children learn each group of sounds they are provided with the appropriate books to support them in using and practising these sounds.The children are assessed on their phonics and reading skills every half term and moved within their phonic teaching groups in line with this.
We introduced the Read Write Inc spelling programme after identifying gaps within the children's written work and summative assessments.  It teaches spelling cumulatively and systematically with deliberate, focused practice. It builds upon the teaching strategies and spelling activities from Read Write Inc. Phonics used within EYFS and KS1
Mrs Wordsmith is a programme that provides a regular dose of rich, descriptive vocabulary for all aspects of storytelling, from describing characters' appearance, actions, and emotions to creating vivid, memorable story worlds.  The programme integrates words based on what children need to strengthen vocabulary; reading skills and their writing skills.  The programme covers 6 main overarching topics from: character; weather; action; emotion; taste and smell; and settings.  Every year group, from 2 to 6, learns a different topic to ensure by the time they leave the school, they have covered the programme in its entirety.